Water Removal
Water Removal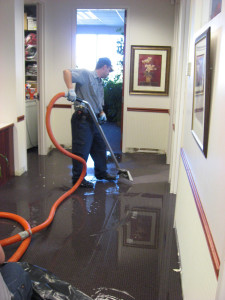 Water removal is another word that is used to describe the process of water extraction from a home or building. It is often used by homeowners when they describe what they need to have happen once water fills their home.
In addition, many insurance companies use this term when speaking with homeowners right after a loss. Rather than using proper terminology such as water damage mitigation, they will simply use the term "water removal" as a generic description of the first step in the remediation or restoration process.
There are several methods used to remove standing water from floors. The most effective method uses a van mounted truck-mount extraction machine that has an engine and a mechanism called a blower that actually creates insane amounts of vacuum.
This unit is then hooked up to a 2 inch hose and the technician uses a floor wand, a floor squeegee or an extraction tool called a water claw which removes water from both carpeting and the pad below it.
Extraction, or water removal is the most crucial step to any water damage job. The extraction process should be performed slowly and methodically to remove as much water from materials prior to beginning the dry out process with mechanical drying equipment such as dehumidifiers, Thermal drying units and air movers.
When you remove as much water from floors and carpeting and pad as possible, you can cut dry times by as much as 24 – 48 hours.