Flood Damage Restoration
Flood Damage Restoration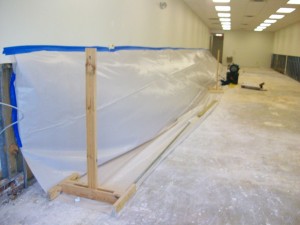 As we defined earlier in the video about speaking with your insurance company, there is a distinct difference in the terminology used for insurance purposes. Flood damage will usually refer to "outside" water or "rising" water from outdoors that has accidentally entered the home. The protocol used for "Flood Restoration" is different than water damage restoration.
With "Flood" water there is an increased presence of contaminants and microbial properties. When flooding occurs, it requires the cut-out and removal of flooring materials, sheet-rock and any insulation that has been affected.
The reason that the materials have to be removed has a lot to do with contamination and Mold Growth. If affected materials such as carpet, pad and sheet-rock where just treated with antimicrobial's and dried in place, there is an increased chance that black mold could develop and then the flood restoration job could turn into a mold remediation job, thereby increasing costs and also increasing the likelihood of adverse health issues.