Conventional Drying
[et_pb_section background_color="#6aceb6″ inner_shadow="on" fullwidth="on" background_image="http://waterdamagejacksonville.com/wp-content/uploads/2011/10/cropped-Water-Splash-long.jpg" parallax="off"][et_pb_fullwidth_header admin_label="Fullwidth Header" title="Conventional Drying Techniques" subhead="For Emergency Help… CALL 904-287-1600″ background_layout="dark" text_orientation="left" /][/et_pb_section][et_pb_section fullwidth="off" inner_shadow="off" parallax="off"][et_pb_row][et_pb_column type="2_3″][et_pb_text admin_label="Text" background_layout="light" text_orientation="left"]
Conventional Drying Techniques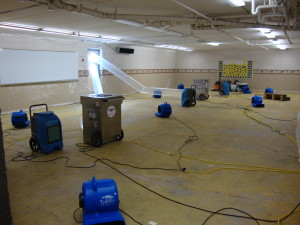 This page is an introduction to how wet structures are dried in the field of Water Damage Restoration while using dehumidifiers and air movers.
This page will specifically detail the equipment and scientific methodology utilized when drying by conventional means. In the restoration industry the word conventional simply means… how it has been done for decades.
As seen in the picture there is a variety of equipment. The videos below will help describe each piece and what there benefits are.
There are two different types of equipment used while drying a water damage loss by conventional means. The first is the air mover and the second is the dehumidifier. Each category of equipment includes many different types. For example, with air movers, there are centrifugal air movers such as the ones shown in this flood picture. The second type of air mover is called an axial fan. These fans are used to produce a large amount of air movement directly at a surface to be dried. Whereas centrifugal fan are more commonly used to float carpeting and direct air movement directly at a wet material with minimal amperage use.
[/et_pb_text][/et_pb_column][et_pb_column type="1_3″][et_pb_sidebar admin_label="Sidebar" orientation="left" area="sidebar-1″ background_layout="light" /][/et_pb_column][/et_pb_row][/et_pb_section][et_pb_section fullwidth="off"][et_pb_row][et_pb_column type="4_4″][et_pb_cta admin_label="Call To Action" title="Help is only 1 call away." button_url="http://waterdamagejacksonville.com/waterdamagejacksonville.com/contact-water-damage-help-line" button_text="Please give me phone number…" background_color="#090d35″ use_background_color="on" background_layout="dark" text_orientation="center" /][/et_pb_column][/et_pb_row][/et_pb_section]